Zen Dogs and Cool Cats
Zen Bites - Bacon & Beef
Sale price Price $25.00 Regular price
"Bring home the Bacon!"
New Zen Bites Bacon & Beef Flavor.
These CBD infused soft chews have a great improvement in 4mg per chew and are ready to supplement on-the-go to help keep your pup Zen in any occasion!
Key Ingredients:
Organic Hemp Seed Powder: A complete source of protein; providing all nine essential amino acids.
Beef Liver: The most nutrient dense organ meat; rich in Vitamin A.
Flax Seed: Rich in Omega-3 fats and fiber to support digestion.
Sweet Potato: Rich in anti-oxidants; immune system support.
Potential Benefits Include:
Stress and Anxiety Relief
Anti-Inflammatory Support
Appetite Stimulation
Non-Psychoactive
Product Certifications:
Made in the USA
No GMO
GMP Certified
Made with Organic Hemp Powder
Dosage Recommendations:
Supplement twice a day for overall health and wellness. If necessary gradually exceed dosing weight recommendations for specific occasions!
Customer Reviews
09/23/2020
Sandy B.
United States
Bacon and beef for the win
They loved these treats! They smelled good enough for humans to eat! They have the same amazing calming effects as the CBD oil! Highly recommend Zen Dogs products! I have 2 boxers, one is scared of her own shadow & the other is a big ball of anxiety. These chews & oils have improved their behavior all around!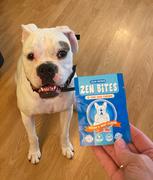 09/23/2020
Sassy_sady_
United States
Zen Bites
Simply WoW! These bites are like magic. As a pet owner I love the idea of CBD in a treat version. We tried these bites because we recently moved and now we have couple of 3 year old kids coming over often. Sady finds it stressful when kids come over. Zen bites help me to calm her down. Thank you so much zendogsandcoolcats for these phenomenal all natural products. You are my lifesaver ♡
09/15/2020
Sara
United States
So good!
Great! My dog loves these, he went wild for them. So obviously they taste amazing and they really helped calm him during the thunderstorms that rolled through that afternoon. He normally shakes like a leaf but he was much less nervous this time around. Would definitely recommend!
09/11/2020
Dora
United States
Zen bites
My dogs were trying chew these straight out if the package! You couldn't keep their sniffers away from them. They sure love bacon flavored treats!
08/24/2020
Rachel S.
United States
Zen bites
We had a very good experience with the Zen Bites. My senior cat especially liked them, and I love the idea of the treat version of CBD oil for pets. At 15 years old, my Kitty Symeón takes a few meds throughout the day. Giving CBD oil as a treat makes it easier for him to have all the benefits of CBD, and enjoy a treat at the same time.