Zen Dogs and Cool Cats
500mg for Dogs & Cats
Sale price Price $59.00 Regular price
Zen Dogs - All-Natural 500mg CBD Oil for Dogs & Cats
All-Natural CBD Oil
For Dogs & Cats
Made with MCT Oil
All Natural Wellness Supplement
Stress & Anxiety Relief
Balanced Behavior Support
Mobility/Joint Support
Anti-Inflammatory Support
Anti-Itching Support
Appetite Stimulation
Easy Administration
Non-Psychoactive 
Product Certifications:
Made in the USA
Made with Organic Ingredients
Lab Tested
GMP Certified
No GMO
 Dosage Recommendations:
Supplement twice a day for overall health and wellness. If necessary gradually exceed dosing weight recommendations for specific occasions!
Customer Reviews
12/17/2020
Brit M.
United States
BEST EVER
I cannot say enough great things about this product. I've experimented with many different CBDs over the past few years. I have 3 dogs: rescued pit bull with bad hips & serious separation anxiety; rescued chihuahua who barks incessantly; elderly spoiled chihuahua with chronic health issues who was given a few months to live about 6 months ago… I use CBD drops for all 3 dogs. For pain management- it helped me get the pit off pain meds the vet wanted to keep her on permanently (bad back, hips, joints), and it obviously helps my old chihuahua dude feel more comfortable. If either dog goes without, I notice a difference in their movements. I stupidly let myself run out for a few days in the past, and the pittie had joint problems escalate to where she couldn't get up the stairs. The pit's heart murmur has also had less fluctuations since consistently using Zen CBD (likely a consequence of minimized separation anxiety & pain, rather than direct effect of CBD, but still a perk!). Big pro: it's safe to mix with prescriptions and other meds, though I always double check w/vet when starting a new med. For behavior - lessened (definitely not eliminated) the barking. The amount it helps with pittie's separation anxiety is unbelievable. I can leave my house without worrying that she's in a constant state of panic/destruction; now she'll just stay pinned to the window watching for us to return home. Perks of CBD-only recipe: you don't pay the crazy sales taxes for some of the other pet CBDs that have small traces of THC, and you're not giving your unsuspecting dog mind-altering THC. THANK YOU ZEN DOGS!
10/24/2020
Hollie F.
United States
Love it
Came fast and helps my baby's to be good and calmer then before. Also I'm older dog use to spit up a lot, that's gone.. Thank you helping me..
10/03/2020
Estefania M.
United States
Calmer
My puppy is a lot calmer when we leave him alone for extended periods. I can really see a difference when we use this product!
09/27/2020
Daisy G.
United States
CBD Drop Review !
Skye my 6m GSD has shown signs of being much calmer in the mornings and at night especially. She sleeps through the whole night without waking me up to play now!! 10/10 would recommend, not only is she much calmer when she needs to be, but she's relaxed at the same time, her coat is wayyy softer and looks so shiny!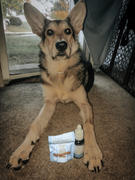 09/23/2020
Sandy B.
United States
I now have zen dogs!
We have tried several brands of CBD oil over the last couple of years. My male boxer, Mr. Crowley, has really bad anxiety. My female, Madame Laveau, is scared of every noise. The first time I gave them Zen dog I could tell a difference within 30 minutes. My husband came in from work not knowing I had the CBD and said " what did you do to my dogs? Did you dope up my dogs?" Zen dog is a game changer for our household! Love love love it!